THE ENVIRONMENTAL REVIEW
The Stockton Diamond Grade Separation project is preparing to enter the environmental review phase, which means the proposed new grade separation will be analyzed for potential environmental impacts as required by the California Environmental Quality Act (CEQA) and National Environmental Policy Act (NEPA). A wide range of resource areas will be studied to identify potential effects of the proposed project and to establish clear mitigations prior to approval to ensure the project continues forward.

Agriculture & Forestry Resources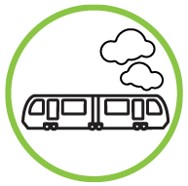 Air Quality & Greenhouse Gas Emissions
Biological Resources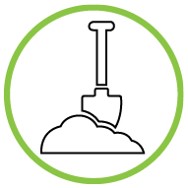 Cultural Resources

Energy

Geology/Soils

Hazards & Hazardous Materials

Hydrology/Water Quality

Land Use/Planning

Noise & Vibration

Parks & Recreation
Population/Housing

Public Services & Utilities

Transportation & Circulation

Visual Resources

Wildfire
THE CEQA/NEPA PROCESS
SJRRC, in cooperation with the California High Speed Rail Authority, under delegation by the Federal Railroad Administration, will prepare an Environmental Impact Report (EIR) for CEQA compliance (with SJRRC as the CEQA Lead Agency) and an Environmental Assessment (EA) for NEPA compliance (with California High Speed Rail Authority as the NEPA Lead Agency) for the Stockton Diamond project.
: Public participation opportunities
THE KEY ACTIVITIES
Key activities during environmental planning include coordination with regulatory agencies including, but not limited to:

Environmental Data Collection and Field Surveys

Preparation of environmental technical studies*

Development of a Draft EIR/EA
Public review of Draft EIR/EA

Preperation of Final Environmental Approval Docs
*Air quality and greenhouse gas emissions; noise and vibration; biological resources; cultural resources; community impacts; transportation and circulation; hazardous materials; and others
Local and regional community stakeholders, as well as the general public, play key roles in the environmental planning process through ongoing participation and by providing timely and formal input at critical public comment periods within the environmental process. This valuable engagement helps to identify and address key concerns, issues, and potential impacts in order to develop a project that best meets the needs of the community.